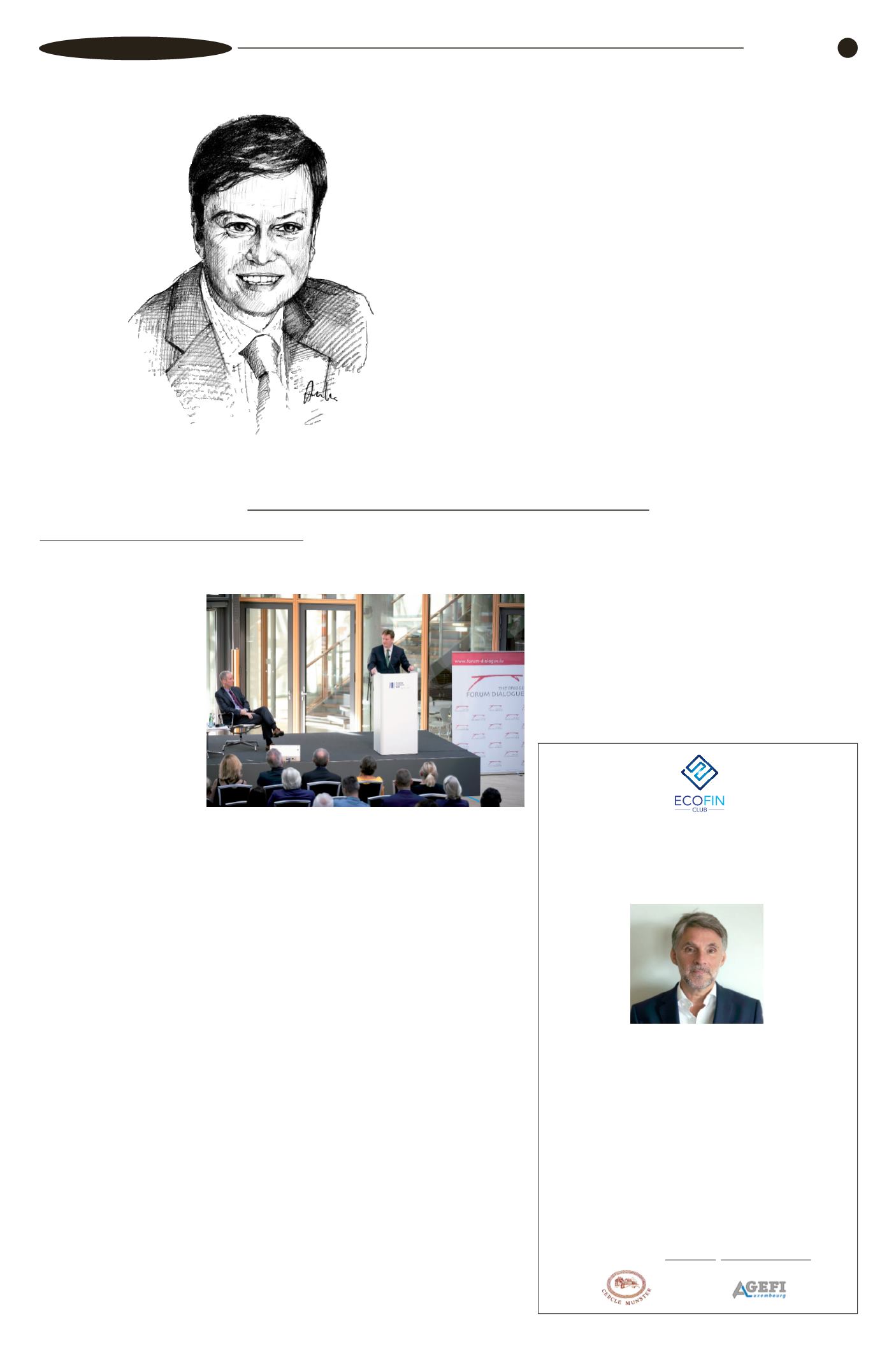 L
e Premier ministre, ministre d'Etat,
Xavier Bettel, s'est rendu àMexico
City en visite officielle du 7 au 9 avril
2019. Ce déplacement s'est tenu près de 40
ans après la dernière visite effectuée par un
chef de gouvernement luxembourgeois -
celle de PierreWerner en 1980 - et avait
comme objectif de renforcer les relations
bilatérales entre les deux pays.
LePremierministreétaitaccompagnéparunedélé-
gation économique composée du CEO de
Luxembourg for finance, Nicolas Mackel et de la
Directrice adjointe de l'Association luxembour-
geoise des fonds d'Investissement,AnoukAgnes.
Le 8 avril, le Premier ministre a été accueilli par le
Président mexicain, Andrés Manuel López
Obrador, au Palais présidentiel pour une entrevue.
Les discussions ont notamment porté sur le renfor-
cementdesrelationsbilatérales.Acesujet,lePremier
ministreaconstatéquelesrelationsentreleMexique
et le Luxembourg sont fortes et ancrées dans la
durée : «votre invitation est pour moi un signal de
confiance. Je souhaitequenotre rencontrepermette
dedonnerdenouvellesimpulsionsetdecontribuer
àouvrirdenouvelles avenuesde coopérationentre
leMexique et le Luxembourg».
Cette entrevue a également permis d'échanger sur
lesgrandsdossiersdel'actualitéeuropéenneetinter-
nationale. Dans ce contexte, le Premier ministre a
rappelé que leMexique est un partenaire extrême-
mentimportantpourl'Unioneuropéenne:«jesalue
qu'un accord de principe ait été conclu en avril
l'année dernière sur la modernisation de l'accord
global entre l'Union Européenne et le Mexique, et
j'espère qu'il sera bientôt signé». Le Luxembourg
soutiencetaccordquipermettraderenforcerdavan-
tage les liens politiques, économiques et culturels
entrenosrégions.Cetaccordconstitueégalementun
signal fort en faveur du commerce international
fondé sur des règles.
Au cours d'un déjeuner de travail avec le ministre
des Affaires Etrangères, Marcelo Ebrard, les possi-
bilités de renforcement de la coopération bilatérale
ont été abordées, ainsi que la situation régionale, et
aussi lacoopérationauseindes enceintesmultilaté-
rales.LePremierministreasoulignéqueleMexique
et le Luxembourg travaillent souvent main dans la
main au sein d'institutions multilatérales, comme
les Nations Unis, où les deux pays partagent un
même engagement pour les grandes initiatives qui
détermineront le futur de notre humanité, comme
par exemple la mise en œuvre de l'accord de Paris
sur le climat et de l'agenda 2030pour ledéveloppe-
ment durable.
Le9mars,lepremierministreaétéreçuparlamaire
de laVilledeMexico, ClaudiaSheinbaumPardo, et
au cours d'une cérémonie, il a été nommé «citoyen
d'honneur» de la ville deMexico. «Luxembourg et
Mexico City sont des villes très différentes, mais
nous partageons les mêmes valeurs et principes :
nous nous efforçons tous les jours, que ce soit au
niveaunational, régional ou international, de servir
notre peuple et notre pays», a estimé le Premier
ministreàcetteoccasion. Il aajouté, «jechérirai cette
décoration en tant que symbole de la relation étroi-
tequenousentretenonsnonseulemententrelaville
de Mexico et la ville de Luxembourg, mais égale-
ment entre nos deux pays.»
Par la suite, le Premierministre a été accueilli par le
Président du Sénat de la République, Martí Batres
Guadarrama pour participer à une session formel-
le du Sénat au cours de laquelle il était invité à pro-
noncerundiscours.Lediscoursaporténotamment
surrelationsentrelesdeuxpays,etlesconvergences
pour renforcer lemultilatéralisme : «C'est une hon-
neur d'être reçu par vous aujourd'hui dans ce haut
lieu de la démocratie mexicaine ! Ceci illustre une
nouvelle fois que nos relations sont fortes et
anciennes et basées sur la confiance et l'amitié», a
souligné le Premierministre.
Source : ministère d'État
«Luxembourg et Mexico City partagent les mêmes valeurs et principes»
ociaux
jettent
forces
de marché.
Ces populismes, relayés par les réseaux sociaux et radicalisés par des embra-
sements politiques, pourraient fissurer le modèle social-démocrate européen et
conduire à des chocs sociaux et politiques d'une envergure désespérante.
Dans cet essai rédigé à la lumière des mouvements sociaux, notamment celui des
« Gilets jaunes » en France, Bruno Colmant replace ces évolutions dans la longue
histoire du capitalisme et, plus spécifiquement, dans le sillage de la révolution néo-
libérale des années 1980 dont nous ressentons désormais le ressac social.
Disponible sur
www.livre-moi.be
et dans toutes les bonnes librairies.
«
Il est temps
de réhabIlIter
un état stratège
tourné vers les
génératIons
futures.
»
--------------------
bruno Colmant
Avril 2019
9
AGEFI Luxembourg
Economie / Fiscalité
O
rganised by PwC
Luxembourg on 22March
2019, this year's Banking
Daywas about business sustaina-
bility. In the context of the various
forces that are currently shaping
theworld and putting pressure on
financial services, Luxembourg
banks want tomove fromcost-
cutting trend to keep performance
levels to an agenda focused on
productivity. This translates into
streamlining processes to attrac-
ting and retaining talent, acqui-
ring technology needed to boost
productivity, and to become resi-
lient, agile, customer-centric and
digitally savvy.
LuxembourgBanking:
Live long andprosper?
The theme of this year's Banking Day,
"Live longandprosper", addressed the
reality of the past few years and the
transformation that is occurring across
thebankingsector. TheLuxembourgish
business environment has entered a
transition phase. New market players
and the digital wave are forcing banks
to rethink their strategies anddigitise in
order to respond to consumer expecta-
tions and defend market share against
an increasing array of innovative and
potentially disruptive competitors.
Participants enjoyed an agenda of top-
level insight on the recent changes and
those still to come.
Following thewelcome note byRoxane
Haas, Banking Leader at PwC
Luxembourg, Claude Marx CSSF
Director General, spoke on supervisory
and regulatory developments in the
bankingsector.Henotedthat,"Thefutu-
reissustainablefinance.Iinvitebanksto
thinkof sustainabilityas abusiness stra-
tegyand,therefore,theneedtofindnew
income streams and business models.
The banking systemneeds a homeopa-
thic medicine rather than a chemical
medicine, a solution that embraces a
holistic, natural approach to the chal-
lenges it faces."One of the highlights of
thedaywasadebatebetweentheCEOs
of two major players of the banking
industry, Frank Krings, CEO, Deutsche
Bank Luxembourg, and Matthias
Kröner, founder and CEO, Fidor Bank
AG. Thedebate sawKrings andKröner
confront their views and discuss the
future of the banking industry.
Competitiveness and the
new(banking)worldorder
The keynote speaker at this year's
event was, Stéphane Garelli, Professor
Emeritus at IMD Business School and
theUniversityofLausanneandauthorof
"TopClassCompetitors–HowNations,
Firms and Individuals Succeed in the
NewWorldof Competitiveness."
According to him, to remain competiti-
ve, banks, and companies in general,
will need to respond to the needs of the
youth, whether they are clients, inves-
tors or the future workforce. He said,
"Think of who will be banks' competi-
tors tomorrow, and where they are
coming from. Who owns the technolo-
gy highway, builds exits elsewhere to
diversify using the power of data". The
generationof "me-ism"may like to take
selfies, but it'sveryconcernedabout the
state of theworld. They have a particu-
lar senseof entitlement andaweirdrela-
tionwith ownership".
Jurassic Banking: towards
extinctionor evolution?
Talk of competitiveness, and how to
achieve it, paved the way for the cen-
tral debate of the Banking Day,
"Jurassic Banking: towards extinction
or evolution?" with Frank Krings,
CEO, Deutsche Bank Luxembourg on
one side and Matthias Kröner, foun-
der and CEO, Fidor Bank AG,
Germany on the other.
While toKrings, thebanks thatwill sur-
vive would have navigated the digital
wavebyevolvingandadapting,Kröner
thinks that in future, banks aswe know
them today would probably do not
exist.According tohim, "Banks have to
decide if they go digital or die."
Inoffering theGovernment'sviewwith
anupdateon the latestdevelopments in
thebanking industry, PierreGramegna,
Luxembourg's Minister of Finance,
said, "Are banks becoming extinct?
Banking serviceswon't become extinct.
Newcomers will deliver comparable
services; what will change is the way
things are done. The key is the consu-
mer and data about the consumer to
shape experiences. Regulation is a pen-
dulum that will continue, sometimes
more, sometimes less. However, it
might be an opportunity. While it can
lead to "uncompetitiveness", it can
make banks more competitive too.
That'swhy smart regulation is necessa-
ry, tomake Europe stronger. Brexit will
go, but digitalisationwill stay."
Asaconclusion,RoxaneHaasadded"A
varietyofforceshaveputpressureonthe
financialservicesindustryinrecentyears
at global levels. They, including banks,
have focusedon reducing expenses and
personnel, automating, offshoring and
introducing new technology. In
Luxembourg, several banking players
have undertaken transformation initia-
tives at different degrees; however, we
seeasnecessarytotakeastepforwardto
focus on a productivity agenda, and
streamlineprocesses. It includes, among
others,acommitmenttounderstandbet-
tertheworkforce,betonimprovingtheir
digital IQandmasteringdigital labour."
18
th
edition of "Banking Day"
Spotlight on the transformation of the banking sector
Pierre GRAMEGNA, Luxembourg'sMinister of Finance
©TwitterMinister of Finance
29/03/2019
1,1236
35,90
5,84
1,74
1,96
0,3370
0,0838
8,0799
2,6600
36995
431
15,06
28/02/2019
1,1376
35,46
5,77
1,72
1,94
0,3164
0,0874
8,4305
2,8100
37124
438
15,51
DIFF%
-1,23%
1,25%
1,25%
1,25%
1,25%
6,50%
-4,16%
-4,16%
-5,34%
-0,35%
-1,69%
-2,90%
$
LUF/BEF
FRF
DEM
NLG
EUR
EUR
EUR
$
EUR
EUR
$
Ce tableau de bord, une exclusivité d'AGEFI Luxembourg, permet au lecteur
:
1° de convertir le dollar dans son ancienne devise;
2° de connaître le coût de production de plusieurs produits pétroliers en euro, à comparer avec le prix au détail.
3° de connaître le prix de l'or et de l'argent en kilo et en euros.
EUR 1=
$1=
$1=
$1=
$1=
Pétrole brut (coût de
production): 1 litre=
Gaz naturel: 1m
3
=
Gaz naturel: 1MWh=
Gaznaturel:1MMbtu=
Or: 1 Kg=
Argent: 1 Kg=
Argent: 1 oz=
-=ledollaraugmenteparrapportàl'euro,(+)=l'an-
ciennedeviseaugmenteparrapportau$
Francs luxembourgeois/belges
Francs français
DeutscheMarks
Gulden (florins)
West Texas Intermediate (prix en euro par litre)
NaturalgasHenryHub(prixeneuroparm
3
)
NaturalgasHenryHub(prixeneuroparMWh)
NaturalgasHenryHub(prixen$parMMbtu)
Fixing$deLondresaprès-midi(prixeneuroparkg)
Fixing $ de Londres (prix en euro par kg)
Fixing $ de Londres (prix en $paronce)
TABLEAUDEBORD
AGEFILuxembourg
Xavier B
ETTEL
avecAndrésManuel
L
ÓPEZ
O
BRADOR
, Président mexicain
©ME