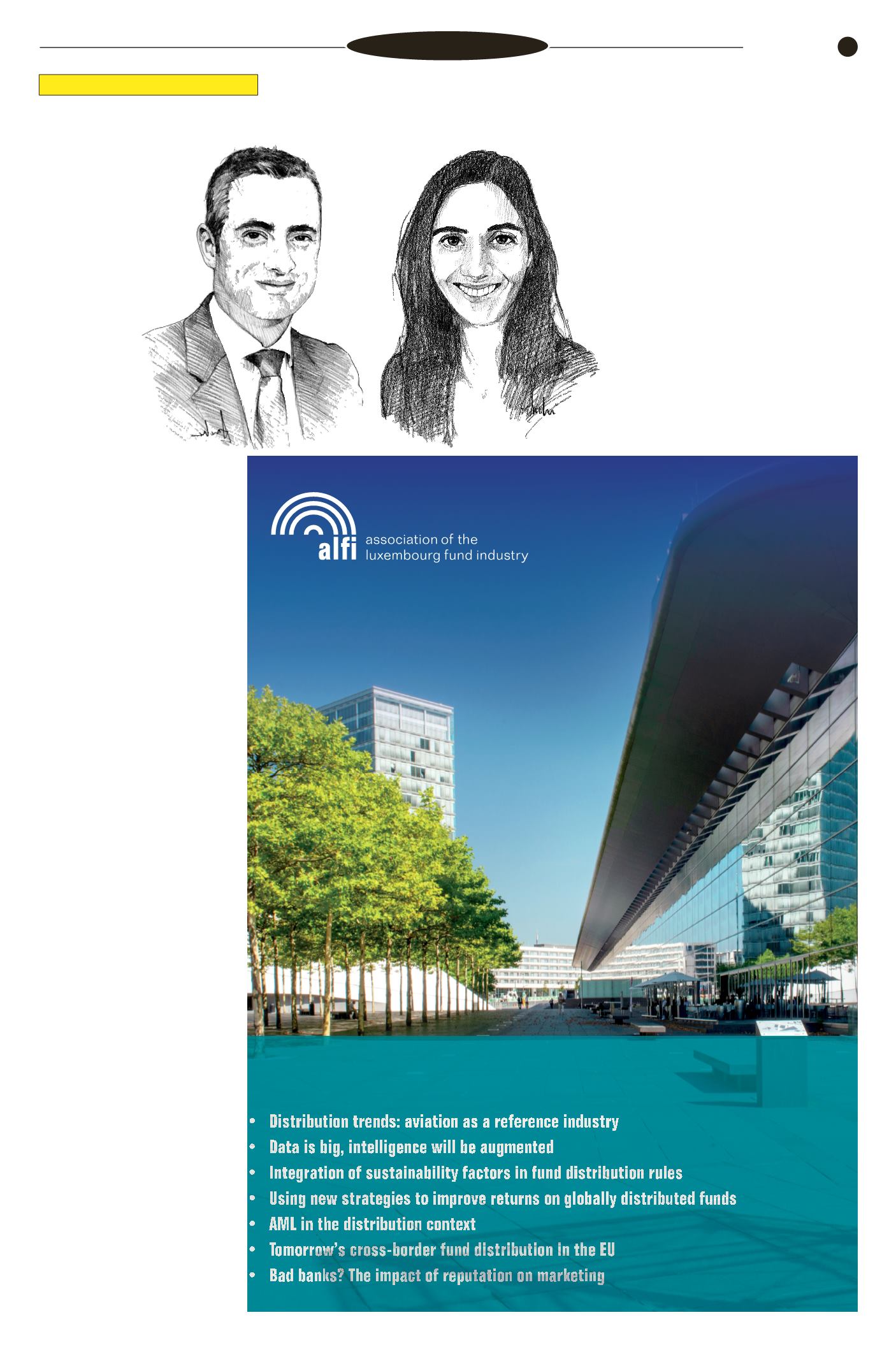 AGEFI Luxembourg
30
Février 2019
Fonds d'investissement
Par Bruno COLMANT, Ph.D., Professeur auxiliaire
à la Luxembourg School of Finance
A
lors que leministre
français des Finances
parle de reformer le capi-
talisme, ce dernier n'est aucune-
ment en phase terminale. Au
contraire, il est en phase d'en-
fantement permanent, sans déli-
vrance ni aboutissement. Le capi-
talisme constitue, par lui-même,
un état inabouti et de déséquilibres
permanents qui auto-entretiennent
son propremouvement. Il n'y a sans
doute pas de soulagement moral à
en attendre, sauf à ranger sous la
morale l'expression des
angoisses face à la
mondialisation.
Mais, en nous immer-
geant dans le capitalisme
mondialisé, nous avons
occulté une chose essentielle :
l'économie de marché spontanée ne
permettra pas de financer nos engage-
ments collectifs. Lesprochaines années se
soumettront à une terrible confrontation entre
les espoirs véhiculés par ces promesses et la dissi-
pation de ce séduisant mirage. La colère sociale de
certaines classesdéfavorisées chauffe sous labraise.
Au constat que notre État-providence est devenu
insoutenable financièrement, sauf à hypothéquer
laprospéritédesfuturesgénérationsparunegigan-
tesque dette publique, on trouvera des raisons
objectives telles que le vieillissement de la popula-
tionetladécroissancedesgainsde
productivité.Celanechangeen
rienl'affirmationselonlaquel-
le nous vivons à crédit sans
plus être capables de tisser
lefiletdesécuritésocialequi
soustrait un nombre crois-
sant d'individus à la pau-
vreté. Dans un tel contexte,
il faut segarder deminimi-
serlesrisquesderadicalisa-
tion et d'extrémismes poli-
tiques. Les crises écono-
miques entraînent des érup-
tions et les escaladespolitiques
sont une lave qui n'est jamais
refroidie.
Des défis sociétaux d'une enver-
gure tectonique patientent der-
rière une porte refermée par
un verrou de fortune :
notre
déni,
conscient ou
inconscient.
Nous avons,
engrandepar-
tie, échoué à
intégrer des
populations
immigrées ou de
confessions religieuses différentes, alors que de
futures vagues de migrations successives, d'ori-
gine politique, économique, écologique, alimen-
taire et hydraulique, sans compter les pressions
démographiques, sont certaines.
À la périphérie de l'Europe, des frontières se fer-
ment et des régimes renouent avec l'esprit des
années sombres. La guerre se diffuse à l'Est. Au-
delà de ces premières réactions de répression et
d'exclusion, qu'allons-nous faire ? Où irons-nous
? Quelle sera l'envie d'un futur lorsque le torrent
de ces défis sociétaux déferlera avec une singuliè-
re convergence de leurs paroxysmes dans moins
de dix ans ?
C'est endéans cet horizon que l'État devra resser-
rer sa vision stratégique : ces défis dépassent de
loin tout ce qui a dû être traversé depuis la fin de
la Seconde Guerre mondiale. Ce sens de l'immi-
nence est tel que de nombreuses personnes ébau-
chent un lienanalogique avec les années 1930. Les
crises successivesmettront au jour l'aboutissement
de cette transitionvers unmodèlede complaisan-
ce, de manque de vision et de déficit de perspec-
tives. Les configurations sociétales deviendront
extrêmement vulnérables.
Le roulement de l'économie requiert que lemarché
et la règle de droit soient l'avers et le revers d'une
même réalité.Au cœur de nos sociétés, c'est ainsi le
postulat de la nécessité de liberté individuelle qui
fonde à la fois lemarché et la démocratie, dans une
dialectique de renforcementmutuel.
Si l'efficacité supérieure du capitalisme n'est plus à
prouverentermesdeprospéritécollective,larépar-
titionde ses bienfaits exigedes pouvoirs politiques
adéquats.Eneffet,unsystèmecapitalistetout-puis-
santmenacedesuffoquersoussespropresexcèss'il
ne connaît aucune autre régulation que l'expres-
sion du prix formé par les lois de l'offre et de la
demande. Il suscite même l'emprunt de toute res-
source disponible pour satisfaire un bien-être nar-
cissique immédiat. Les réalités sociales n'y sont
donc pas appréciées à l'aune d'un ordre moral,
mais plutôt sous la contrainte de la soumission à
l'oppositiondesfacteursdeproduction,c'est-à-dire
le travail et le capital. La domination des GAFAet
lesbalbutiementsprometteursdel'intelligencearti-
ficielleaggraventdésormaiscetteréalité,soulignant
l'impotence des États à s'inscrire dans une sphère
marchande qui leur est supérieure.
Cetteconstatationfondeincidemmentl'ambivalen-
ce du capitalisme et met en exergue la nécessité
d'une régulation étatique.
Le capitalisme rhénan, fondé sur la planification
étatique et la tempérance des rapports sociaux, est
désormais minorisé au détriment du travail et
autres variables erronément inépuisables,
considéréespar lemodèle anglo-saxonmajoritaire
comme des externalités négatives. Le populisme
est l'expression, souvent égarée, d'un retour aux
forcesde rappel étatiques. Ledanger est qu'il entre
enrésonnanceavec lecapitalismequ'il veut tempé-
rer. Si cela devait aboutir, le capitalisme anglo-
saxon aurait détruit l'État, en totale contradiction
avec ce qu'Adam Smith, considéré par d'aucuns
comme lepèrede l'économiepolitique, préconisait.
L'opposition de ces modèles ne signifie pas qu'il
faille pour autant restaurer un capitalisme rhénan
dans sonacceptionoriginelle, réglementé et fondé
sur une croissance régulière et prévisible ainsi que
sur une forte protection sociale. Ce modèle, qui a
fondé la croissance économique d'après-guerre,
reflétait une situation particulière à un moment
de l'histoire, à savoir une typologie industrielle et
inspirée par la planification économique.
Dans ce modèle, singularisé par une stabilité des
coursde change, de l'inflationet des tauxd'intérêt,
le rendement du capital était résiduel. Cette situa-
tion s'expliquait par l'implication des pouvoirs
publics dans le financement de l'économie
d'après-guerre. Les exigences de rendement du
capital étaient mesurées sans prendre en compte
l'aléa qui lui est attaché. Le capitalisme rhénan tel
quenous l'avons connua capitulé, dépassépar l'é-
volution de nos réalités.
Le capitalisme n'est pas en phase terminale
By Mike CRONIN, Investment Manager,
North American Equities & Tom
DORNER, Investment Director, European
Equities, Aberdeen Standard Investments
R
apid technological deve-
lopments combine with
falling investment
returns in a world of low rates,
demographic and regulatory
changes – all add up to pres-
sures on the insurance sector.
Facing new challenges
Big data, machine learning and artifi-
cial intelligence are examples of a
new wave of technologies which are
beginning to present considerable
risks and opportunities for many
companies. The insurance sector is an
example of an industry adapting its
business strategies to meet this chal-
lenge. Against the backdrop of other
major, often adverse, trends, success
has so far been mixed.
Surveying the situation
We recently carried out a major sur-
vey of the insurance industry in
North America, which provides a
good example of the disruption tak-
ing place, and the resulting risks and
opportunities, not just in that region
but globally. The survey was compre-
hensive, involving firms representing
about $3.6 trillion of assets under
management, which represents
around 30% of total insurance assets
within the region. Specific themes
were identified as shaping the future
path of the industry.
The first was a tipping point in tech-
nological developments. Major
changes were expected in the opera-
tional facets and distribution routes
of the sector, especially the rise of dig-
ital offerings, often from new private
equity backed insurers. Other techno-
logical advances, including telemat-
ics and big data analytics, were
expected to improve underwriting
practices and pricing with implica-
tions for future growth. Meanwhile,
the growth of autonomous vehicles
will materially affect some insurance
subsectors.
Another theme from the survey was
falling investment returns, an issue
we have considered in our long-term
returns analysis. Based on their cur-
rent asset allocations, a large majority
of insurers expect to see future invest-
ment returns fall short of their inter-
nal targets. A prolonged low interest
rate environment was cited as a key
risk to investment portfolios.
Some insurers are responding by
actively seeking to rotate out of tradi-
tional fixed income into alternative
assets such as corporate and real
estate loans or infrastructure debt, or
to develop new tactical and strategic
asset allocation skills, but there are
practical difficulties in moving in this
direction. These include a limited
supply of long-duration investment-
grade private credit meeting the
needs of insurers, and the time
required to build up the necessary
skills internally, or otherwise develop
relationships with external managers,
to oversee the additional complexi-
ties and risks.
Our strategy in this environment
Our funds have been underweight
US insurance over the past year. In
principle, technological solutions
couldhelp improve the profitability of
the sector. However, the adoption of
technology is still in its infancy and
many questions remain unanswered
about future developments. For
example, in auto space how quickly
will customers be willing to adopt
telematics? How will the data collect-
ed impact underwriting and pricing?
Will the benefits from new technolo-
gies just be competed away? How
could ride sharing and/or autono-
mous driving change the basics of
insurance policies in the future?
One example where use of big data
is in its infancy concerns AIG. It cre-
ated a technology-enabled platform
to apply data science, automation,
and digital technology to improve
underwriting and lower costs in
small and middle market commer-
cial insurance. This market is
extremely fragmented, with a num-
ber of regional and mutual fund
players who lack the resources avail-
able to AIG to make these technolo-
gy investments. However, this
investment will take some time to
translate meaningfully into results,
and unfortunately in the near-term
AIG continues to be affected by
earnings volatility.
For European insurers, so far themain
impact of technological change has
been on how insurers distribute prod-
ucts. However, big data and AI are
increasingly having an impact on
underwriting (using innovative data
sources in pricing decisions) and
claims handling (automatic assess-
ment and payment of claims). Smaller
companies have made some head-
way. Admiral and Direct Line in the
UK are at the forefront of innovations
like telematics and were well placed
to benefit when motor insurance dis-
tribution shifted from brokers
towards online price comparison.
Nordic insurers such as Tryg or
Gjensidige are moving an increasing
share of their claims handling
towards automatic processing, which
should ultimately lower costs for cus-
tomers and the insurer. In contrast,
some of the bigger European players
have found it more challenging to
turn technological change into a real
competitive advantage. Operating in
multiple jurisdictions and having
legacy IT infrastructure that is often
built through mergers does not easily
lend itself to change. The danger for
some of these companies is that
despite large IT budgets and affilia-
tions with technology companies,
these are more about public relations
and testing ideas rather than having a
real impact on the customer or the
insurer's profitability.
In European funds we are over-
weight the insurance sector because
we think that a solid outlook for earn-
ings and strong balance sheets sup-
port attractive dividends and capital
returns to shareholders.
In conclusion, the insurance sector
faces some structural pressures
requiring investment in new skills
and new technology. New IT
approaches do present some material
opportunities to use data and soft-
ware to improve pricing and the cost
of claims handling, but we expect
smaller players to benefit more than
the large insurers. Over time, howev-
er, technology will increasingly have
an impact, for example ride sharing
or autonomous cars could challenge
about one-third of the sector's gener-
al insurance premiums.
Technology – a double edged
sword for the insurance sector
Actions luxembourgeoises
Devise au 31/01 au 31/12
Var Plus haut
Plus bas
Aperam
EUR 26,70
23,14 15,38 % 27,22
22,17
ArcelorMittal
EUR 20,20
18,18 11,10 % 20,49
17,14
BlueMarHoldings
EUR
4,50
-
-
Brederode
EUR 57,80
50,70 14,00 % 58,00
50,30
EDIFY act. ord.
EUR 51,00
53,00 -3,77 % 53,00
50,00
ImmoLux-Airport
EUR 224,00 210,00 6,67 % 226,00 218,00
Luxempart
EUR 51,50
47,80 7,74 % 52,50
47,20
ReinetInvest
EUR 12,50
12,00 4,17 % 13,90
11,70
RTLGroup
EUR 47,82
47,50 0,67 % 49,50
45,02
SEO .prvB
EUR 268,00 210,00 27,62 % 268,00 210,00
SEO 1/5prvB
EUR 62,00
51,00 21,57 % 62,00
41,40
SES FDR
EUR 17,82
16,68 6,87 % 18,27
16,28
Socfinaf
EUR 11,70
11,40 2,63 % 11,90
10,50
Socfinasia
EUR 14,10
12,60 11,90 % 14,50
12,60
SocFinCaoutchcs
EUR 28,60
28,00 2,14 % 29,00
28,00
Actions étrangères
Devise au 31/01 au 31/12
Var Plus haut
Plus bas
Brait ord
EUR
1,85
1,82 1,65 % 2,00
1,58
Engie
EUR 13,92
12,43 11,95 % 14,05
12,22
FidRealEstate
EUR 170,00 174,00 -2,30 % 174,00 168,00
FiducOffSolut
EUR 28,20
28,20
-
28,40
28,20
HellaGmbHKGaa
EUR 39,68
34,80 14,02 % 41,44
34,02
Prosiebensat1Me
EUR 15,62
15,55 0,42 % 16,76
14,06
RobGloStEqFd cat A
EUR 38,00
35,40 7,34 % 38,00
35,20
Rolinco ord A
EUR 38,80
35,40 9,60 % 38,80
35,00
Volkswagen ord
EUR 149,70 139,10 7,62 % 154,20 135,50
Volkswagen prv
EUR 146,50 138,92 5,46 % 151,64 134,48
Vonovia
EUR 43,71
39,59 10,41 % 43,89
39,56
GDRs
Devise au 31/01 au 31/12
Var Plus haut
Plus bas
AsustekComputer Reg S GDS USD 38,40
32,80 17,07 % 38,40
33,00
ChinaSteelCorp GDS
USD 16,50
15,80 4,43 % 16,50
15,60
HindalcoInd GDR
USD 2,92
3,26 -10,43 % 3,06
2,34
HTC Corporation GDR
USD 4,74
4,62 2,60 % 4,94
4,26
HyundaiMotor ord GDS
USD 58,00
53,00 9,43 % 58,50
51,00
RelianceCommun GDR
USD 0,16
0,21 -19,90 % 0,20
0,16
RelianceInd GDS
USD 34,50
32,15 7,31 % 35,35
30,90
SamsungElec GDS
USD 843,00 711,00 18,57 % 843,00 678,00
SKhynixInc. 05 GDS
USD 66,50
54,00 23,15 % 68,00
51,00
OPC
Devise au 31/01 au 31/12
Var Plus haut
Plus bas
BlackRock Global Funds
World Mining Fund A2 USD
Capitalisati
USD 36,30
34,09 6,48 % 36,30
33,34
Candriam Bonds Global
Infla ion Short Duration
Classique EUR
EUR 136,96 136,38 0,43 % 136,96 136,40
Merr ll Lynch Investme t
Solut ons Marshall Wace Tops
UCITS
GBP 136,38 135,60 0,58 % 136,38 134,04
Xtrackers S&P 500 Sw p UCITS
ETF 1 Capitalisation
USD 48,64
45,04 8,00 % 48,64
44,36
Obligations
au 31/01 au 31/12
Var Plus haut
Plus bas
EUR Luxembourg 2,125% 10/07/2023 110,740 110,675 0,05 % 110,991 110,485
EUR Luxembourg 2,25% 19/03/2028 116,525
-
-
116,525 115,155
EUR Luxembourg 2,25% 21/03/2022 108,321 108,561 -0,22 % 108,618 108,277
EUR Luxembourg 2,75% 20/08/2043 143,669
-
-
EUR Luxembourg 3,375% 18/05/2020 105,030 105,462 -0,41 % 105,434 105,024
Rendements obligataires
au 31/01 au 31/12
Var Plus haut
Plus bas
EUR AAA-BBB SSA 3-5 yield Index
-0,141
-
-
-0,098 -0,293
EUR AAA-BBB Corporate 3-5 yield
Index
0,770
-
-
0,890
0,589
EUR AAA-BBB Financial 3-5 yield Index
0,258
-
-
0,353
0,072
USD AAA-BBB SSA 3-5 yield Index
2,824
-
-
2,974
2,824
USD AAA-BBB Corporate 3-5 yield
Index
4,140
-
-
4,479
4,140
USD AAA-BBB Financial 3-5 yield Index
3,057
-
-
3,301
3,057
Indices
au 31/01 au 31/12
Var Plus haut
Plus bas
LuxX Price Index
1416,20
-
-
1434,04 1286,60
LuxX Return Index
2331,50
-
-
2360,87 2118,13
Lux GDRs India Index
1436,88
-
-
1501,68 1399,68
Lux GDRs Taiwan Index
1463,17
-
-
1477,64 1393,28
Lux RI Fund Index
1476,40
-
-
1476,40 1390,83