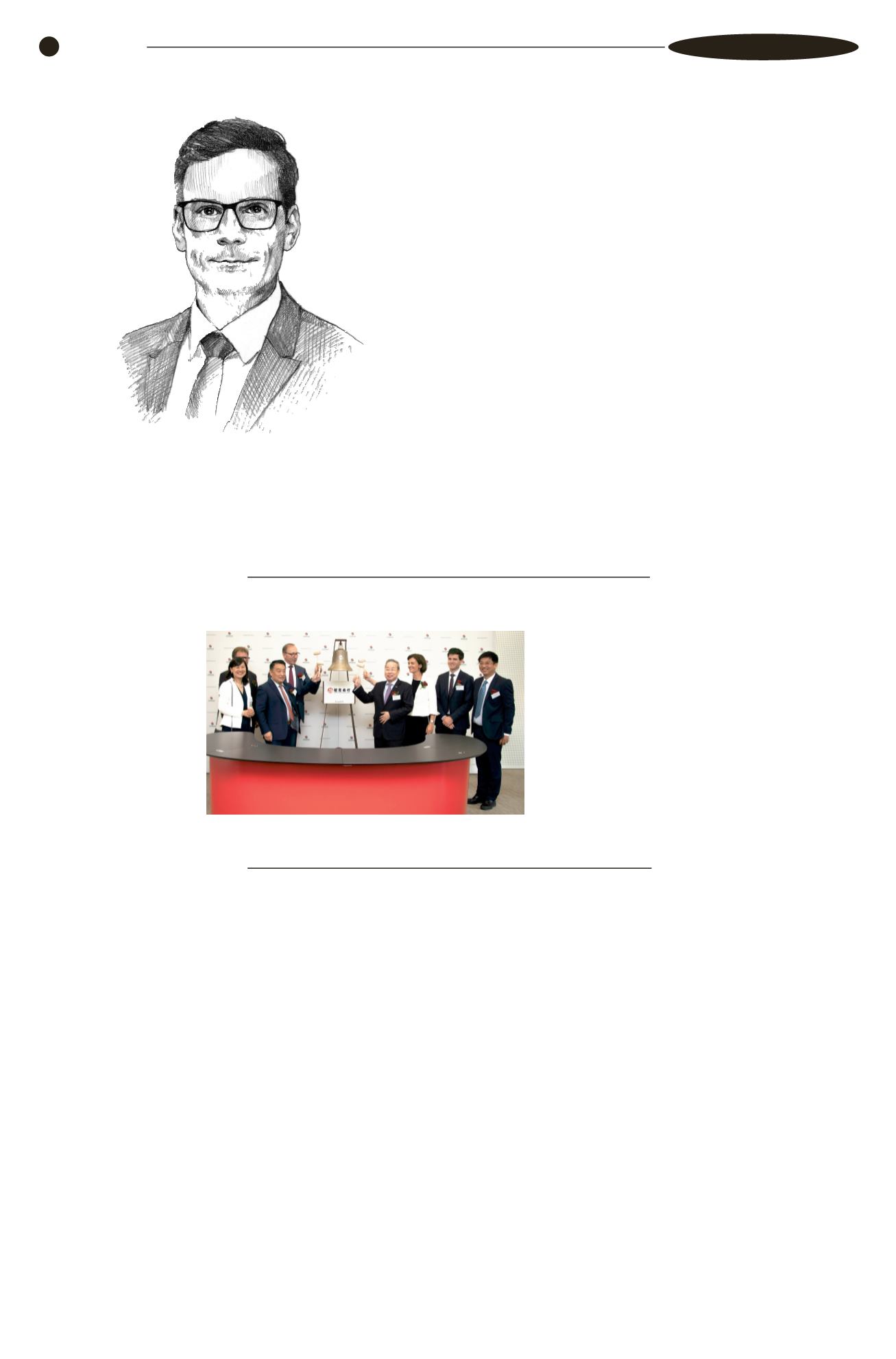 Février 2019
31
AGEFI Luxembourg
Fonds d'investissement
B
ien que les statistiques
économiques publiées
continuent de confir-
mer la thèse du ralentisse-
ment de la conjoncture
mondiale, une récession ne
semble pas pour autant
imminente dans la plupart
des pays. Ceci est l'opinion
de Guy Wagner (cf. por-
trait), chief investment offi-
cer de BLI - Banque de
Luxembourg Investments, et
son équipe, dans leur analyse
mensuelle, les 'Highlights*'.
Aux Etats-Unis, le marché de l'emploi
demeure robuste, les créations
d'emploi ayant été parti-
culièrement fortes en
janvier malgré la ferme-
ture partielle du gouver-
nement.
En Europe, le ralentisse-
ment est plus explicite, «le
PIB de la zone euro ayant
augmenté de seulement 0,2%
en glissement trimestriel au
cours des trois derniers mois de l'année
passée, le rythme le plus lent depuis
quatre ans», indique Guy
Wagner, chief investment offi-
cer et administrateur-direc-
teur de la société de gestion
BLI - Banque de Luxem-
bourg Investments.
«La croissance japonaise
demeure fortement tribu-
taire de l'issue du conflit
sino-américain, découra-
geant les dépenses d'inves-
tissement de la Chine et, par
conséquent, la demande de
biens d'équipement fabriqués
au Japon.»
En Chine, les autorités
publiques réagis-
sent au ralen-
tissement
économi-
que par des
mesures de
s t imu l a t i on
d'ordre moné-
taire et fiscal sus-
ceptibles d'avoir
un impact favo-
rable sur la crois-
sance vers le
milieu de l'année.
Les Etats-Unis et l'Europe gardent
leur politique monétaire inchangée
Conformément aux attentes, la Réserve fédé-
rale américaine a laissé inchangés ses taux
d'intérêt à l'issue de la première réunion du
comité monétaire cette année, la borne supé-
rieure du taux des fonds fédéraux restant à
2,5%. «Les autorités monétaires ont toutefois
modifié le message sur leurs intentions futures,
indiquant qu'elles se montreraient dorénavant
patiente pour relever leurs taux d'intérêt, alors
que précédemment, elles avaient affirmé leur
volonté de garder en place la trajectoire haus-
sière», souligne l'économiste luxembourgeois.
Comme justification, le président Jerome Powell
a cité les multiples contre-courants conjonctu-
rels tels que le ralentissement des économies chi-
noise et européenne, les incertitudes entourant le
Brexit, la guerre commerciale avec la Chine et la
fermeture partielle du gouvernement américain.
En Europe, le conseil des gouverneurs de la
Banque centrale européenne n'a apporté aucun
changement à sa politique monétaire lors de la
première réunion de l'année.
Les marchés boursiers ont
fortement rebondi en janvier
Après la correction importante en décembre, les
marchés boursiers ont fortement rebondi en jan-
vier. Ainsi, les indices principaux ont tous enre-
gistré des performances largement positives.
«Au niveau sectoriel, le rebond a également été
assez homogène, le meilleur secteur ayant été
celui de l'énergie, alors que même celui des ser-
vices publics, la lanterne rouge, s'est considé-
rablement redressé.»
Les rendements des emprunts d'Etat
poursuivant leur tendance baissière
En janvier, le rebond important des marchés
boursiers n'a pas entraîné un retournement de
situation sur les marchés obligataires, les rende-
ments des emprunts d'Etat poursuivant leur ten-
dance baissière. Ainsi, le rendement du bon du
Trésor américain à 10 ans a légèrement reculé,
alors que les taux de référence à 10 ans dans la
zone euro se sont même davantage détendus.
«Les perspectives de ralentissement économique
et de réduction supplémentaire des pressions
inflationnistes maintiennent les taux longs à de
faibles niveaux», conclut Guy Wagner.
* Les analystes de BLI autour de Guy Wagner publient
mensuellement les «Highlights» et commentent les der-
niers développements boursiers ainsi que l'impact potentiel
et futur sur les marchés. Une publication complémentaire
est «Perspectives», l'analyse trimestrielle des marchés
financiers.
Une récession demeure peu probable
en dépit du ralentissement économique
By Tom BROWN, Partner, Global and UK
Head of Asset Management at KPMG
T
he start of 2019 is looking
tough – markets are down,
geopolitical risks high but
it's also one in which we believe
the asset management industry
can thrive. China holds conside-
rable opportunity, notwithstan-
ding trade disputes; the trend
toward sustainable investment
has room to run, with better
defined standards; and asset
managers are creating value
through technology. The follo-
wing are the top 10 trends that I
think will have the greatest
influence this year for the asset
management industry.
1. Competition for China heats up
By all accounts, 2019will be an exciting
year for China's asset management
industry. On the domestic front, firms
will experience intense competition –
and more innovation – as they fight to
protect and capture market share.
New rules related to the way Chinese
banks manage client assets and recent
efforts to stimulate the stock market
should also catalyze significant activi-
ty. Viewed against a backdrop of a
slowing economy, thismay seem like a
difficult environment for foreign play-
ers. However, our view is there will
still be significant opportunities for
those players able to bring amore con-
sumer-focused and digitally-enabled
proposition to the market. Ownership
requirements on foreign asset man-
agers have also changed, and that is
creating new opportunities for many
players. Stay tuned for a raft of new
partnership announcements between
bigger global brands andChina's tech-
nology leaders this year.
2. PE continues strong run
Last year, was another strong year for
PE with buyout volumes in Americas
and Europe both at record highs.
Investor confidence appears to remain
very robust with another solid year of
fundraising (albeit a little off the excep-
tional volumes of 2017) and hence the
stock of dry powder to supporting
ongoing investment activity remain at
record levels. The situation in Asia
Pacific is slightlydifferent, deal volumes
in recent years have yet to grow in line
with exceptionally strong fundraising
resulting in dry powder growing sub-
stantially. While understanding the
advantages of PE as a source of capital
inthe regionhas increasedconsiderably,
leading managers will still need to con-
tinue their efforts to broaden PE's
appeal as a capital solution, particularly
at the larger deal sizes. This will ensure
the market grows to absorb the com-
mitted capital. High asset prices contin-
ue to be seen in themarket andnoware
probably higher up the list of macro
concerns as PE transitions frombeing a
net seller of assets having largely
cleared the post financial crisis exit
backlog into a conveniently high
priced market over the last few years.
However, few expect imminent mate-
rial correction and have therefore been
puttingmore efforts into being innova-
tive in creating more value in the port-
folio. Increased use of digital technolo-
gy and big data are assisting here. The
PE investment model has a long track
record of outperforming other asset
classes, particularly public markets,
and while market conditions remain
challenging, we anticipate this out-per-
formance to continue throughout 2019.
3. Sustainabilitymeasurement
getsmore sophisticated
Over the last fewyears, Environmental,
Social and Governance (ESG) priorities
finally took their place on the assetman-
agement agenda. This year, the real
work continues as regulators start to
more clearly define their expectations
for the industry. Some markets are
already working towards creating stan-
dardized taxonomies and disclosure
requirements. Many are considering
howtodrive thisdown to the consumer
level to ensure that asset managers are
taking their clients' ESGpreferences into
account. Expect many to place much
greater focus on integrating ESG data
points into their investment processes
and client reporting.
4.Managers start looking
for value in their technology
In 2019, we expect to see more asset
managers connect their technologydots
in ways that unlock an entirely new
level of agility, efficiency and value. For
some, this will start with basic cloud
enablement – a fundamental require-
ment for digital enablement to deliver
on today's customer expectations. The
leaders, on the other hand, will likely
spend this year creating roadmaps and
executing strategies that drive
improved integration across the back,
middle and front office. This will allow
them to not only unblock process road-
blocks, optimize technologies and elim-
inate redundancies, it should also lead
to some strong competitive advantages.
5. The regulatory scopewidens
All signs suggest that the asset man-
agement sector will continue to see
increasing regulatory oversight, partic-
ularly related to systemic risk and
investor protection, such as leverage
and costs. What may be surprising for
some asset managers will be the grow-
ing demand (from regulators, govern-
ments and investors) to deliver on a
basket of non-financial concerns. Some
will be focused on encouraging more
diversity within management compa-
ny boards. Others will want to see
greater disclosure on their funds' ESG
impacts. Most will start to clarify how
they plan to regulate an industry that
continues to grow and is becoming
increasingly digital.
6. The definitionof infrastructure
investment broadens
Over the past few years, in order to
deploy their increasing capital into the
largest possible universe of assets, we
have seen a growing number of fund
managers start to (1) invest directly, (2)
explore non-core markets such as
Eastern Europe and Asia, (3) expand
the definition of what constitutes an
'infrastructure' asset to include, for
example, care homes, data centers and
telecom assets and (4) compete with
corporates in the energy sector, offshore
wind being a hot spot for larger
investors. This year, as well as the
deployment of capital, we expect to see
many infrastructure investors continu-
ing to focus on building up the capabil-
ities and experience required to ensure
their new basket of diversified assets
are delivering the rates of return they
anticipated. Data, analytics, scenario
planning and a robust investor com-
municationplanwill also be key so that
they are able tomanage the rise of pop-
ulism and increased public scrutiny as
to how theymanage public assets.
7. Real Estate investors
get serious about data
This year, expect more focus on data
and leveraging technology for analyt-
ics. Indeed, rather than just relying on
experience and understanding of the
markets and cycles, real estate
investors are starting to place increas-
ing value on data-driven decision-
making tools and processes. Some real
estate investors will be focusing on
finding the right balance of future
investments to ride out the next cycle.
Others are looking for unexpected
trends that may uncover new sources
of competitive advantage. Those with
operational real estate investments
will also be keen to turn their data into
operational efficiencies and better
yields. Operatorswill be evolving their
business model and new shifts in tech-
nology will change the behavior of
both landlords and tenants.
8. Institutional investors
start to tell their story
Against a backdrop of increased pro-
tectionism and nationalism, many
institutional investors are finding
some foreign investmentmarkets to be
increasingly challenging (particularly
when it comes to foreign investments
into core infrastructure assets). In
response, we expect to see some insti-
tutional investors start to communi-
cate more directly with the public and
with authorities about the benefits
their investments can deliver and
greater engagement with regulators
and governments. This year, expect to
hear institutional investors communi-
cating their keymessages to the public.
9. ETFplayers becomemore active
The ETF market continues to show
strong signs of positive growth and
many assetmanagers are starting to rec-
ognize ETFs as an important part of the
digital product offering. Yet, until today,
the market has largely been dominated
by big passive players. This year, we
expect some of the more active players
to start to enter theETForiginationmar-
ket in earnest. Somewill focus ondevel-
opingmore activeETFproducts. Others
will focus on more specialist product
offerings. One thing is clear: ETF mar-
kets have got further to go. The oppor-
tunities for asset managers to play a
more active role are significant.
10.Wealthmanagers
embrace newmodels
The outlook for wealth management is
strong, driven by rising levels of private
wealth and the threat of significantly
underfunded retirement savings. Yet,
while it is clear that demand for the
industry's core activities remains strong,
our view suggests that – in the short-
term–challengesrelatedtocurrentmar-
ket uncertainty and volatility may start
to dampen investor sentiment this year.
In the longer-term, we expect to see the
industry start to fundamentally rethink
the economics of its business and oper-
ating models to take advantage of new
digital opportunities while also
responding to growing demand for
increased transparency. New digital-
first and hybrid models will proliferate
and,whiletheymaynotbedisruptivein
andof themselves, theywill start toraise
the bar for client experience and cost
which, inturn,willdrive increasedcom-
petition in the industry.
Top 10 trends in asset management for 2019
Obligations
au 31/01 au 31/12
Var Plus haut
Plus bas
EUR AlticeLux 7,25% 15/05/2022
98,830 93,440 5,76 % 99,080 91,800
EUR BNPParibas 4,875% pp
102,880 102,402 0,46 % 103,000 102,000
NZD BNPParibas 5,875% 04/12/2019 102,843 102,983 -0,13 % 102,981 102,759
USD Colombia 8,375% 15/02/2027
118,030 117,105 0,79 % 120,630 114,000
USD DeutscheBank 2% 04/02/2019
99,865 99,765 0,10 % 99,865 99,559
USD DeutscheBank 2,2% 17/11/2020 95,170 95,810 -0,66 % 96,050 95,040
EUR EFSF 2,625% 02/05/2019
100,770 101,040 -0,26 % 101,030 100,760
EUR ENI 3,75% 27/06/2019
101,556 101,918 -0,35 % 101,940 101,556
USD GazCapital 8,625% 28/04/2034 126,514 123,848 2,15 % 127,250 124,219
EUR GiePsaTresor 6% 19/09/2033
123,680 120,449 2,68 % 123,935 117,247
EUR HeidelbergFinLu 7,5%
03/04/2020
108,317 109,009 -0,63 % 108,983 108,296
EUR Lafarge 4,75% 23/03/2020
105,180 105,460 -0,26 % 105,538 105,000
EUR Luxembourg 2,125% 10/07/2023 110,740 110,675 0,05 % 110,991 110,485
EUR Luxembourg 2,25% 19/03/2028 116,525
-
-
116,525 115,155
EUR Luxembourg 2,25% 21/03/2022 108,321 108,561 -0,22 % 108,618 108,277
EUR Luxembourg 2,75% 20/08/2043 143,669
-
-
EUR Luxembourg 3,375% 18/05/2020 105,030 105,462 -0,41 % 105,434 105,024
EUR NovoBanco 100 09/04/2052
16,040 16,424 -2,33 % 16,523 16,030
EUR NyrstarNlHlds 8,5% 15/09/2019
48,686 43,599 11,66 % 48,686 42,840
USD PetroVenezuela 12,75%
17/02/2022
27,000
-
-
USD PetroVenezuela 5,375%
12/04/2027
25,522 15,075 69,30 % 25,894 14,850
USD PetroVenezuela 5,5% 12/04/2037 25,969 15,241 70,38 % 25,983 15,020
EUR RaiffeisenBkInt 6% 16/10/2023
116,216 115,588 0,54 % 116,216 115,194
USD TelecomItaliaCa 7,2% 18/07/2036 97,221 96,458 0,79 % 99,747 95,160
EUR TelecomItaliaFi 7,75% 24/01/2033 120,486 125,002 -3,61 % 125,452 119,313
USD Turkey 7,375% 05/02/2025
104,748 103,437 1,26 % 104,748 100,617
USD Venezuela 11,75% 21/10/2026
31,974 24,920 28,30 % 34,658 24,469
EUR VWIntlFin 5,125% pp
107,635 103,631 3,86 % 107,635 102,275
EUR ØRSTED A/S 6,25% 26/06/3013 114,335 112,133 1,96 % 114,777 111,560